Our team is preparing to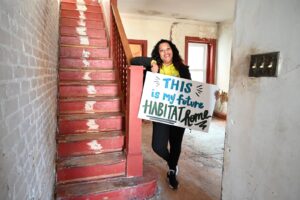 celebrate the holidays in the most joyous of Habitat of ways… honoring home. On Saturday, Dec. 17th, we will gather for a home dedication, marking the completion of our Lime Street Build and Shamaica's achievement of Habitat homeownership.
Shamaica will move into her newly rehabilitated home  in Lancaster City with her three young children. She had made the decision to pursue Habitat homeownership after her daughters developed severe asthmas due to mold in their apartment, which had just one small window. In their new home, the children will be close to their schools, as well as near to Shamaica's grandmother, who helps with childcare.
The formerly condemned home was acquired through the Redevelopment Authority of the City of Lancaster. Despite the home's considerable disrepair, a robust schedule of volunteers made for a relatively short construction turnaround. The project was completed in slightly more than 8 months.
In addition to volunteers who transformed this blighted property into a safe, warm home, we received generous support from our build partners, including the High Foundation, Gamber Foundation, Truist, PNC Foundation, Ferree Foundation, CNH Industrial, Members 1st Foundation, Pennsylvania Housing Finance Agency and GSM Roofing, along with donations from our Renovators' Home Tour event.
All are welcome to attend the home dedication. For event details and to RSVP, please contact info@llhfh.org