To learn more about our current construction and renovation projects, please read below.
Since 1986, Lancaster Lebanon Habitat has constructed and rehabilitated homes throughout Lancaster and Lebanon Counties as part of our homeownership program. 
Our building opportunities come to us in many ways. We have built on land donated to us by local churches or private entities. We have constructed homes on properties were condemned homes once stood. We have completely rehabilitated fire-damaged homes donated to us by generous individuals. We are on the constant lookout for space within the region that might be ideal for a single-family homes. In an effort to bring families closer to their place of work, extended family and schools, we look to create affordable housing where there is need.
Affordable home inventory is at an all-time low. Our community urgently needs more housing opportunities for lower-income families.  Please consider joining our team of sponsors and supporters who have helped with previous builds. Visit our Support Us pages to learn how you can make homeownership possible.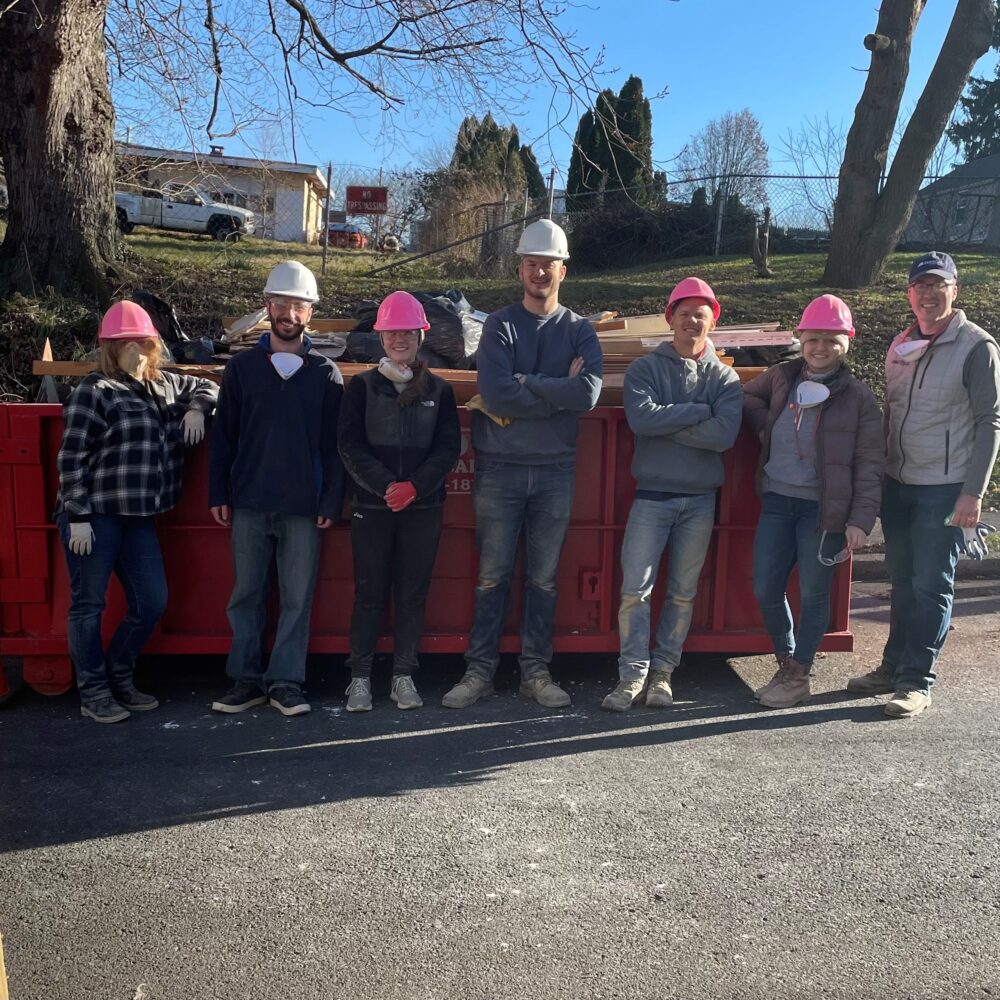 Renovation of 657 Fremont Street in Lancaster City's SoWe neighborhood began in Fall 2022 with demolition. (Left: see our volunteer team from Donegal Insurance Group next to the dumpster they filled in a morning!) Besides redesigning the interior and fixing the roof, an addition will be constructed on the back of the home to accomodate families in our first-time homebuyers program.
In March, we'll start excavation for 4 new homes on S. 5th Street in Columbia Borough. Three of the four homes have already been matched with the homebuyers. Please visit our Facebook page to see a video of the Columbia Build site blessing.
Following the completion of our Cumberland Build, our construction team has launched the Chestnut Street Build in N. Cornwall Township. This property is the future home of Noemi and her family, who are anxious to be in a safer neighborhood and have their own grassy green backyard to enjoy. This project was kicked off during our Fall 2022 Women Build Week, which focused on demolition of the interior.
Looking ahead, we are planning for a complete rebuild project on N. 11th Street in Lebanon City.