See the miracle of your ministry in action.
We are called to build community inside and outside of church. Faith Builds are a meaningful—and fun—way to answer this call. Congregations come together to build a home for a local family in need of a  decent, affordable place to live. Through their collective time, hard work, generosity and prayers, congregations can have a powerful impact on families who need a hand up from their neighbors.
In recent years, we have partnered with Thrivent Financial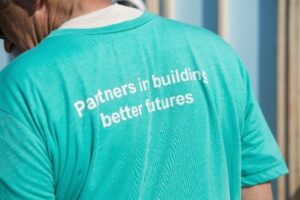 and Highland Presbyterian Church on home builds in Lancaster City. In addition to providing critical funds for building costs, these faith partners bolstered volunteer efforts by encouraging others within the church or in our local faith community to come out to lend a hand on the build sites.
There are many ways to participate in a Faith Build, such as: volunteering on a build day; making a financial contribution; providing lunch for on-site workers; and forming a prayer group for the builds.
If your congregation is interested in helping to build a brighter future for a local family through homeownership, a Habitat staff member would gladly speak with you about our Faith Build. To learn more or arrange for a speaker to come to your church, please contact Director of Development and Communications Amy Balestier at 717.392.8836 ext. 209 or amyb@llhfh.org