With the start of 2023, Habitat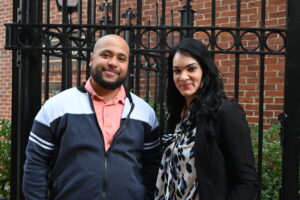 welcomes two new members to our board of directors, as well as new leadership on its executive team. Yessenia Rios and Tony Surita have joined the board, while last year's vice chair, Amy Dellinger, takes her place as board chair.
Between the two of them, Yessenia and Tony have years of partnership with Habitat. Yessenia, who works at PNC Bank in the role of VP Relationship Manager, Community Development Banking, has more recently served on Habitat's development committee and looks forward to rolling up her sleeves for the next Women Build Week this May.
Tony works at TAIT in Lititz and until several years ago was a Habitat homeowner. He, his wife Tielle and young children moved to a new home in Millersville that better fits their growing family. He brings important experience and perspective to the board as a former partner in Habitat's first-time  homebuyers program.
The board officers for 2023 will be Amy Dellinger, Retired Realtor, Berkshire Hathaway HomeServices Homesale Realty, Chair; Turnier Esperance, Jr., Fulton Bank, Vice Chair; Fred Cluck, Capital Construction Management, Treasurer; and Chris Smith, Retired, Camp Rocky Creek YMCA, Secretary. Christian Recknagel, Habitat's board chair over 2022, will join the organization's advisory committee in addition to his role as board member.
We're grateful for the leadership and wisdom that Habitat's board lends to our mission and look forward to an exciting year under their guidance.