Ivelisse has a beautiful way of describing how essential home is to life. She compares a safe, stable house to the habitat that caterpillars must have to go through their transformation. Without the right conditions, a caterpillar will not eventually take flight as the beautiful butterfly it's meant to be.
Ivelisse is one of Lancaster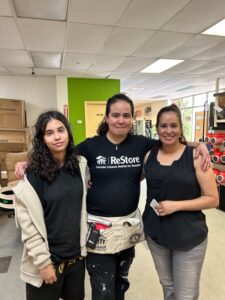 Lebanon Habitat's newest future homebuyers, and she is a firm believer that affordable homeownership offers families the space they need to thrive. To be butterflies. For years, she had longed to purchase a home… a place where she and her children would be free of the fear that they would need to move, again. "Children lose their foundation when they have to move," she explained. "But saving enough money for a home was out of the question. It would be like winning the lottery."
Originally from the Dominican Repbublic, Ivelisse had been studying at university in her home country to be an accountant. When she moved to the States, her educational credits wouldn't transfer. Because she is still learning to speak English, the jobs that were available to her were mostly manual labor… low paying and physically difficult. She couldn't earn enough money to afford homeownership.
When her sister mentioned that Habitat served lower-income families seeking homeownership, Ivelisse began to drop by the Habitat office each Wednesday, inquiring if home applications were open. Each Wednesday, she was gently told "not yet." Until the right Wednesday came along.
"Who would not want to be a part of this?" she said. "It's more than a house. I have the chance to volunteer, to help other people, to be a part of my community."
With her orientation session complete, Ivelisse has begun to work each Tuesday and Wednesday at ReStore to earn her sweat equity hours. She is excited for her daughter, Geily, a McCaskey student, to work alongside of her. Eventually, when she is matched with her home at 100 hours, she looks forward to being on the construction site to build her own home.
And as to what she envisions her future home will be? "As long as it has a strong and stable roof to protect my family, that's all I want."
PHOTO: Ivelisse (right) with her daughter Geily (left) and ReStore team member Sonia.