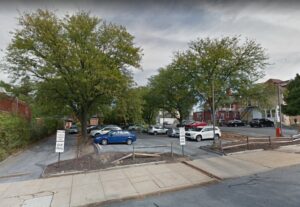 Together with HDC MidAtlantic, we are excited to announce that Habitat will will begin the process of developing a site in Lancaster City's West End for the construction of new Habitat homes. Called the Wheatland Avenue Build, the proposed build site will create new homeownership opportunities for families working through Habitat's first-time homebuyers program.  
The parcel of land, located at 913 Wheatland Avenue, is a portion of the property within HDC's redevelopment of the former UPMC/St. Joseph's Hospital. HDC will transfer control of the former UPMC parking lot to Habitat for home construction.
HDC develops and manages affordable rental housing. As the organization engaged in conversations with neighbors adjacent to its redevelopment project, they understood residents' desire to see more homeownership opportunities within the neighborhood. HDC reached out to Habitat to help turn this vision into a reality.
As with all Habitat projects, a build begins with conversations to understand the needs within the surrounding community. We will be very intentional about creating opportunities to learn about these needs through discussions with the City, volunteers and residents who live within the West End neighborhood. Outreach will begin in the coming weeks.
There is much work ahead of us. Please tune in to our social media platforms for the latest updates on the project's development.