Arctic temperatures couldn't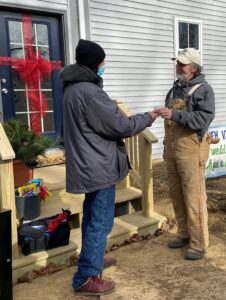 put a chill on the warmth and cheer found at Ronnie's Home Dedication on Saturday, January 15th. It was three years ago–to the day–that Ronnie walked into our Habitat office, seeking homeownership.
Over the past three years, Ronnie has worked hard towards achieving ownership of his home at our Cumberland Build in Lebanon… the site of three fire-damaged properties that are being transformed into safe, warm and affordable Habitat homes. Ronnie contributed 250 sweat equity hours as part of our first-time homebuyers program, which included working on his home, helping at ReStore and taking financial literacy classes.
Among the supporters who attended Saturday's event were Mayor Sherry Capello and Lebanon County Commissioner Jo Ellen Litz, both presenting a certificate of achievement to Ronnie. The Lebanon County Commissioners helped to fund the extensive renovation with the initial lead gift to the Cumberland Build. Additional support came from Santander Bank, The Stabler Foundation, PNC Bank, The Hershey Company, The Bishop Foundation, PHFA, Wells Fargo,  Truist Foundation, First United Methodist Church of Palmyra, Salem Evangelical Lutheran Church, and the Lebanon County Association of Realtors.
As Ronnie accepted the home's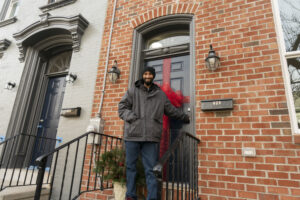 key and a hug from Director of Construction John Neumann, he gleefully announced to the crowd, "No more rent!" Ronnie had been living in an over-priced, substandard rental unit prior to his Habitat home.
There are two more home dedications ahead before the Cumberland Build comes to a close. Rabecca and Tweety will celebrate their big day in the coming months. Please stay tuned for more information on these dedications by watching our Facebook page and e-newsletter.