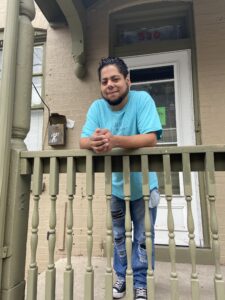 On February 26th, Manny, Awilda and their daughters will celebrate a new home on Howard Avenue in Lancaster and their achievement of Habitat homeownership. 
Every Habitat homebuyer works hard to meet our first-time homebuyer requirements prior to purchasing their Habitat home. Manny is no exception, and in fact has shattered the sweat equity hour requirement of 400 hours by contributing 761 hours! (And you can still find him at the work site, putting the finishing touches on his soon-to-be home.)
The formerly condemned property on Howard Avenue was acquired by Habitat through the Lancaster City Land Bank Authority; it was the first transaction of this new government department. The ensuing renovation was extensive and made possible by a lead sponsorship from Highland Presbyterian Church with additional funding through the annual Renovators' Home Tour and Extraordinary Give.
The home dedication will take place at 10:00AM on the 26th and all are welcome to attend. To RSVP and receive information on address and event details, please email us at info@llhfh.org.