House warming gifts hold a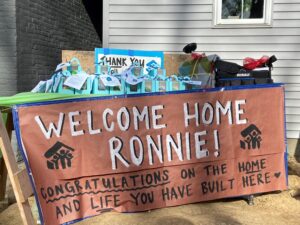 special meaning at Habitat. As we honor a family's achievement of homeownership through a dedication ceremony, what better way to celebrate the moment than to shower our new homeowners with some special presents? The presentation of these house warming gifts has become a fixture of our event program and a tradition that our team relishes.
If you have ever been to a home dedication, you have surely seen a toolbox and bucket of cleaning supplies–with bright red ribbons around the handles–on our gift table. We have also long bestowed upon our homeowners a Bible, or their chosen book of worship, which we hope will offer peace and comfort in the years ahead.
And then there are some newer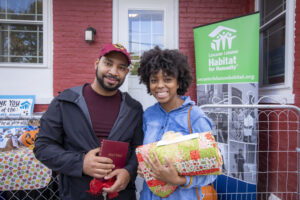 and very personal gifts we have more recently added to our presentation. Habitat supporter Cheryl shares her talent for quilting by making a lap blanket or wall hanging for each new family in the colors they love. A special tag, sewn on the back of the quilt, notes the importance of the day. We believe a quilt is a symbol of the warmth and security that a home has to offer. 
Our volunteers contribute to a "Build Book," a journal that remains on each work site for the duration of the home's construction so that volunteers can add their good wishes and blessings on the pages, filling it with memories that the family can revisit when reflecting on their journey to homeownership.
Some gifts come as an inspiration from donors and friends who want to find a special way to welcome a family. At Manny and Awilda's upcoming home dedication on Feb. 26th, Larry is sharing is his special talent for wood working by making a dining room table for the family. As we consider the memories that are made around a dining room table, we know that the presentation of this piece will be a joyful moment for Manny and his family.
You can share a special gift with our Habitat families by simply attending a dedication ceremony and personally wishing them many happy years ahead in their Habitat home.