You may have seen them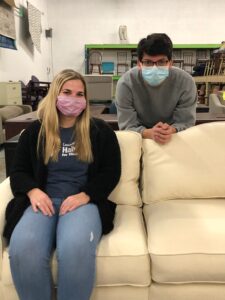 among ReStore's aisles lately… Jesse Gutierrez and Emily Lupi have been on the floor and behind the scenes over these past few months as part of a semester-long internship with our ReStore.
While internships like theirs are a learning opportunity for students, the positions also play a critical role in helping our staff keep our organization humming… just like volunteers do.
"The large thing that I am learning at the ReStore is how to interact and lead volunteers, which is exactly where I want to be," said Jesse, a junior at Arizona State University who is doing his spring semester online. "What I have enjoyed most about the experience so far is seeing how much effort everyone puts in."
To that issue of teamwork, Emily  concurs.
"Everyone is really willing to help anyone out when they need it," she said. "I like how they have the 'get 'er done' motivation."
A senior at Millersville University, Emily has developed an interest in nonprofits through school activities and her ReStore internship, and sees the field as a possible career choice down the road.
Jesse is largely working on ReStore's volunteer program, enhancing the volunteer experience from initial outreach to showing up for shifts, while Emily is focusing on the implementation of the store's POS system, which will dramatically help the staff's ability to serve customers and increase sales. 
If you are interested in a Habitat or ReStore internship, visit our intership page to find out about applying.