Eugenia Perez has a photo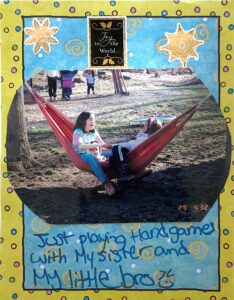 album filled with pictures of the early days, when she and other Habitat homebuyers worked side by side to construct their homes along Euclid Avenue in Lancaster. As she explains, the shared experience turned new neighbors into lifelong friends. 
"By the time I finished building my home, I knew my neighbors and their kids," she said. "We were all in the same boat, trying to raise our kids properly." 
Raising her children "properly" included finding the best educational.  With the money she was able to save on her Habitat mortgage, Eugenia sent her kids to Lancaster Mennonite, where they attended on partial scholarship through eighth grade before attending the Milton Hershey School. 
Her daughter, Wandy, who recently graduated from Clarion University with a degree in speech pathology and audiology with aspirations of opening her own practice one day. She looks back on her childhood and remembers running through fenceless backyards, building forts in the adjacent woods and ambling home from the bus stop. (See picture from her scrapbook above.)
"It was one of the best neighborhoods I could have grown up in, "she stated. "It was like the entire neighborhood was your family." 
With children now grown and more time to share, Eugenia recently attended a volunteer orientation with her fiancé, Randy, so they could begin to volunteer with Habitat and donate their hours to future homebuyers. She understands the challenges of working and raising children while earning sweat equity.   
"I always knew that I'd go back," she said of her return. "It was just a matter of when." 
And her home on Euclid is now home to a new family… Eugenia's sister is raising her young children in the house so that, she explains, they too can have the same opportunities that her family had.  
"Habitat changed my life," Eugenia stated. "I would've made it. But not in the same way."