We love celebrating Habitat "move in" days with our homebuyers. But "move out" days?
As bittersweet as it is, we are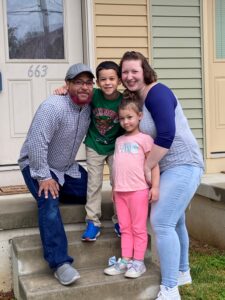 joyfully sending a hearty congratulations to Tony, Tielle and their two young children, who are moving out of their Habitat home on Lancaster's Fairview Avenue and into a new, bigger home that they purchased in Millersville.
"The [Habitat] house is an amazing house, and I'll remember it until the day I die," says Tony, "But we've just outgrown the space."
When Tony and Tielle moved into their home back in 2014, their son Malakai was just 6 months old. Since that time, their daughter Keziah, now 4, was born. Add a few dogs into the mix, and Tony and Tielle decided it was time to find more room. While their family will leave their Habitat home, they'll take happy memories with them, as well as the skills to be successful homeowners.
Tony and Tielle (even through her pregnancy with Malakai) built their home alongside volunteers and former Habitat construction director Jim Eberly, as part of their sweat equity requirements. "I remember putting up a piece of drywall that I look at every day in my house. I do feel proud, like 'I did that,'" says Tony. "When something happens, which it always does in homes, I am okay to fix that. I have the skills and training because Jim taught us that."
The young couple had been living in a mold-plagued apartment when they decided to apply for homeownership in 2013. They knew the conditions were not healthy for a pregnancy or a baby, and they also knew they wouldn't be approved for a conventional mortgage. As Tielle's mom is a Habitat homeowner, still living in her Lancaster home, Tony and Tielle felt Habitat could provide the boost they needed to get started.
The family's success is not limited to homeownership. Both Tony and Tielle have each pursued opportunities that have allowed them to grow–and thrive–professionally. Since moving into their Habitat home, Tielle has written two books (one of devotional poetry, published) and earned her master's degree in management and leadership. This is in addition to working part-time at Bomberger's in Lititz. Tony has pursued his professional passion at TAIT Towers, where he's been employed for 8 years.
"One hundred percent having a stable affordable home helped with this," says Tony of their accomplishments. The thought of going to college or writing a book or pursing his passion at Tait "wouldn't have been possible if we didn't have a stable affordable home," he explained.
We know Tony, Tielle and their children will continue to build their own bright futures, now in their new home. Best wishes to their family!