The Christmas spirit got a little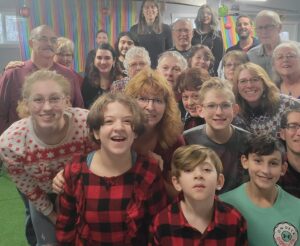 jollier last week at our Habitat office. Our team welcomed a very special delivery that didn't come from Santa, but from three generations of the Hecker Family.
Amy and Ben Schiavone delivered a donation, made in support of Habitat, on behalf of their family.  For 21 years, the Hecker Family has carried out a holiday tradition of making a charitable contribution to one designated charity at Christmas time. As the tradition goes, the nonprofit is selected by one of 7 siblings, who collects donations from fellow family members and reveals the "secret organization" during their big family gathering. 
Over these two decades, the family has raised close to $30,000 for charitable causes. 
"Giving back to the community is special," said Ben, who, with his long white beard and quick smile, finds himself in the role of Santa this time of year. 
Tucked in Amy's arm was a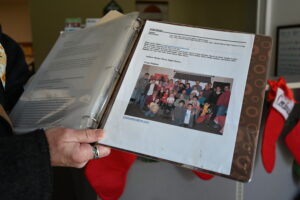 binder that served as a storybook… filled with letters of gratitude over the years from nonprofits near and far, which reflects the coast-to-coast home towns of siblings, nieces, nephews and cousins. 
The tradition began when Amy's mom decided with her seven children that they would give back to the community. Amy points out that, as a single parent, her mom never had much, yet it was a priority for her to give to others in need. Amy hopes that future generations of the family will be inspired to take the reins of this annual Christmas gift and keep it going.
We're grateful for the Hecker Family's beautiful act of kindness during this season of giving. It's a tradition to treasure.