The annual Extraordinary Give is Friday, Nov. 19th… and we have quite a lineup of fun and unique activities to support Habitat and celebrate the day!
If you are strolling downtown,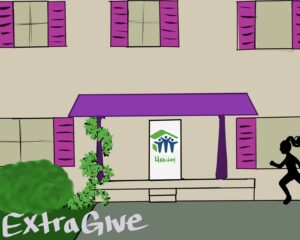 be sure to stop by to see our window mural in Penn Square. Young artist and recent PCA&D graduate Ayana McGaw is creating a rendition of her childhood Habitat home in Lancaster on the windows of Tread House fitness studio. Beginning at 11AM, passers-by will be invited to write on the mural why they love their home. We'd love to hear–and read–your thoughts!
We have not one, but TWO, matching gift hours during the Give, sponsored by UGI Utilities and Benchmark Construction. Make your online gift from 11AM-12Noon or 4-5PM, and your Extra Give donation will go twice as far!
All week long, our Give partner Tread House is giving its members and guests the chance to Torture the Staff with a simple donation to Habitat. Better yet, this week is an Open House at TH. Take classes for free AND support Habitat! 
Are you a ReStore fan? Then be sure to stop by the store for our Extra Give giving lounge, where you can make your donation to Habitat and receive a delicious treat in thanks. 
Remember, donations must be made online from 12 midnight through the 11:59PM on the 19th. You can go online to ExtraGive.org to find Habitat's giving page, as well as the 500+ great local organizations that are participating alongside us.