If you've driven down Cumberland Street in Lebanon, you might have seen them… a string of fire-damaged homes on the 400 block. The 2017 fire was so severe—in fact, it was dee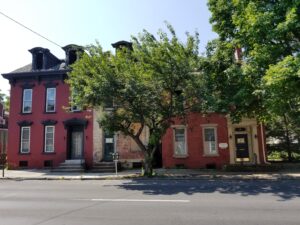 med the city's worst in 30 years—that it left the properties in complete disrepair.
But that's changing. With the acquisition of the properties, Lancaster Lebanon Habitat is transforming the blighted spaces into affordable, energy-efficient homes for three future homebuyers.
Our team of volunteers is on the job, working to restore the homes to their original, single-family footprint, while preserving their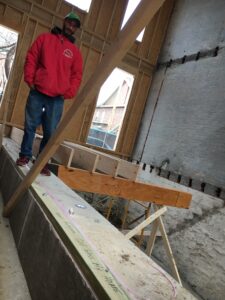 historic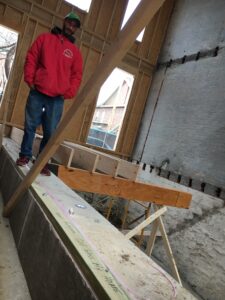 façade and charm. In fact, Ronnie, pictured here within the space that will someday be his home, can often be found on the site, working with the crew to make his dream of homeownership come true.
The Cumberland Build is our most ambitious renovation project to date. As such, we need support from the community to complete the homes. There are many ways to help. Please see volunteer and donation information below.
To sponsor a home or donate to the renovation, please contact Amy Balestier at amyb@llhfh.org or (717) 392-8836 ext. 209. To volunteer, please visit our volunteer page to learn how to get started. 
We're looking forward to working with the city, county, local families, businesses and you!